The countdown is on for one of the nation's most delicious holidays, Thanksgiving! As you begin to plan your menu consider joining us for "Grilling the Feast" Thanksgiving Cooking Class on Nov. 17 at Bay Breeze Patio from 1-3 p.m. We'll share tips, tricks and recipes for creating the most delectable Thanksgiving feast outdoors.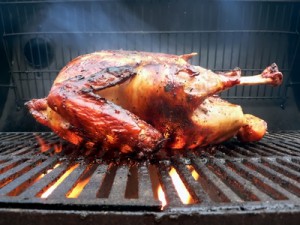 We will feature techniques for:
– grilling a turkey on a Willmington Grill
– cooking a rotisserie turkey on the Fire Magic Grill
– smoking a prime rib on the Big Green Egg
The cooking class will highlight recipe and seasoning options, cooking times and tips on cooking the most tender and flavorful meats for the Thanksgiving feast. The session will also highlight suggested sides that may also be cooked on the grill and even some sweet ideas for grilled deserts.
The class is appropriate for all skill levels and participants will receive a free Wayne's Get Grillin' Rub as a gift for attending the class. The cost is $10/person and proceeds benefit Alaqua Animal Refuge. To register, email wayne@baybreezepatio.com or call Bay Breeze Patio at 850-269-4666. Click here for map and directions.
Make the visit dual purpose and check out our great deals on outdoor furniture, fabrics and accessories to give your patio a fresh look before friends and family arrive for the holidays.
Can't make the class, check out the Hearth, Patio and Barbecue Association Consumer Holiday Cooking Tips Fact Sheet.