Outdoor Kitchens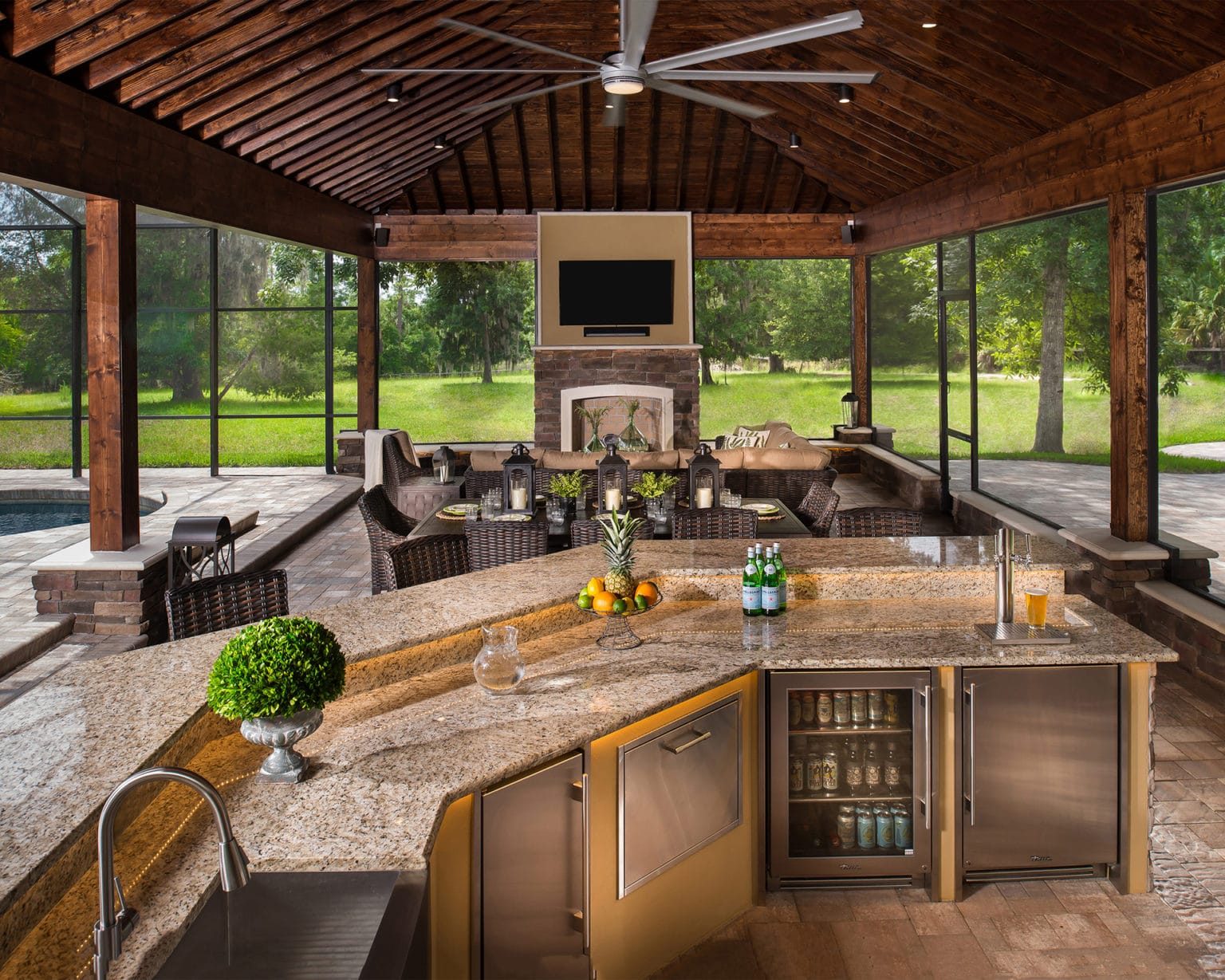 Whether you are purchasing a new home or ready to revitalize your current outdoor space at Bay Breeze Patio we carry the highest quality products to create an outdoor kitchen that is built to last.
The best part is that not only will you enjoy the benefits of having an outdoor kitchen in your backyard, but it will also enhance the value of your home. The investment you make in an outdoor kitchen can result in a 55% to 200% return on your investment when you sell the home.
Due to harsh outdoor conditions, we recommend using all weather-safe materials and selecting appliances that are the highest quality and include a manufacturer warranty.
At Bay Breeze Patio, we carry premium brands to create the outdoor kitchen (aka man cave) of your dreams. We specialize in helping clients create outdoor rooms and outdoor kitchens that bring convenience, enjoyment, and complement their lifestyle. Here's your guide to the creating the best outdoor kitchen:
OUTDOOR GRILLS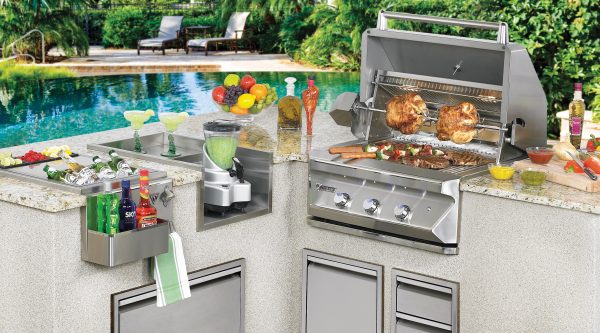 Start your planning by considering what type of grill or grills are best suited for your cooking style. Do you want to slow cook foods or sear steaks and fish? We carry a wide variety of grill types. From pellet grills to gas grills to smokers, we carry the best premium grills on the market. Brands include the Big Green Egg to Gas Grills good enough for professional chefs, including AOG, Fire Magic, DCS, Memphis Wood Fire Grills, Twin Eagles, Willmington, SABER and Broilmaster. Visit our Grills section online to learn more.
OUTDOOR REFRIGERATORS
Outdoor Refrigerators provide convenience and reliability that the chef desires. We carry the best outdoor refrigerators on the market. Some brands also carry kegorators.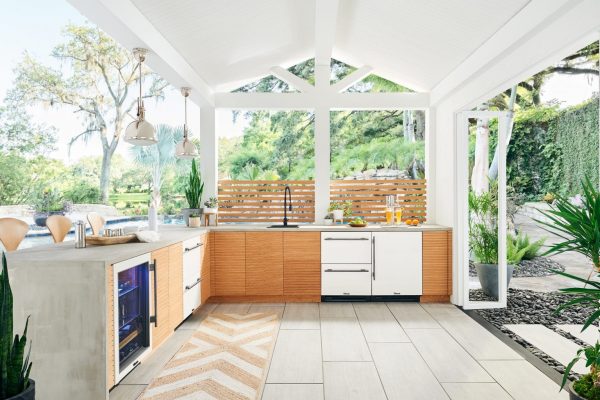 True
Every refrigerator is designed with a "point of use" in mind. From refrigerator drawers to beverage dispensers, every True product performs as well as in your poolside cabana, outdoor kitchen, or outdoor bar as it does in your indoor kitchen. Every undercounter True refrigerator is UL-rated for outdoor use, making Ture the preferred brand out homeowners, designers and architects. In addition, True products include a three-year full warranty and 6 year sealed system, parts and labor warranty and 12 year sealed system parts guarantee.  View True products here.
Check out the latest and greatest by True: Watch Clear Ice Machine video here. True's Clear Ice Machine is the highest performing home ice machine on the market. This full featured unit comes with a built-in filter and drain pump, 14 color LED lighting, Energy Star listed, UL outdoor rated, and a 3-year full warranty and 6-year parts/labor warranty on the sealed system.
Marvel
Certified for performance to withstand the elements, the new Marvel Outdoor Series is the perfect fit for a professional-style outdoor kitchen. Marvel beer dispensers, refrigerators, and ice machines are all built with commercial grade stainless steel that has been salt spray tested for corrosion resistance. Flexible shelving options give total adjustability and advanced cooling systems keep beverages and food at the perfect temperature. Discover why Marvel refrigerators, wine refrigerators, beverage centers, ice makers, and freezers are a great option for premium outdoor kitchens. View Marvel products here.
Perlick
Perlick features a full line of commercial-quality, undercounter outdoor refrigeration. With stainless steel interiors, high-performance refrigeration systems and impeccable craftsmanship, Perlick provides quality refrigerators for outdoor kitchens, outdoor bars and outdoor spaces of all kinds. Whether you're seeking an outdoor refrigerator, beer dispenser, ice maker, freezer, beverage center or wine reserve, Perlick offers high quality, long-lasting outdoor refrigeration systems. Available in column and undercounter styles, Perlick stores your favorite foods and beverages like a pro. View Perlick products online.
(Kegerators also available from DCS, Marvel & True)
ICE MACHINES
Outdoor ice machines and ice makers provide convenience and style. Clear ice, cubed ice, crushed ice, At Bay Breeze Patio, we carry Perlick, Marvel and DCS ice makers.

Perlick
Perlick undercounter clear and cubelet ice makers are the perfect complement to any home refrigeration suite. Perlick offers outdoor-rated standard and ADA-compliant height ice makers with choice of stainless steel or customer-provided overlay panel. View Perlick ice makers online.
Marvel
Marvel offers two types of ice making appliances: clear ice makers that make nearly perfect cubes that will complement fine spirits, as well as crescent ice makers that don't require a pump or drain. View Marvel Outdoor Ice Machines online.
DCS
DCS offers a 15 inch clear ice maker, which produces a seemingly limitless supply of ice for any occasion. This outdoor ice maker produces up to 35 lbs. of clear ice a day. For outdoor use only and an optional drain pump accessory is available if desired. A great choice for a moderately priced premium ice maker. Learn more about the DCS outdoor ice maker online.
CABINETS (Danver, Challenger, Wearever)
Custom outdoor cabinets come in a variety of colors, styles and materials. At Bay Breeze Patio, we carry Danver, Challenger and Wearever cabinet brands.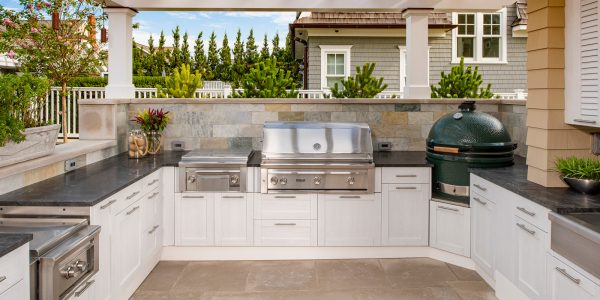 Danver Outdoor Cabinets
Stainless Outdoor Kitchens' craftsmanship and design flexibility is unrivaled, making Danver one of the leading outdoor kitchen manufacturers for nearly 20 years. Danver makes it a priority to work with and alongside designers, architects and builders to create the perfect outdoor kitchen. The cabinets are manufacturered with top quality stainless steel and materials to ensure longevity and a flawless finish. The stainless steel cabinets are manufactured and engineered in-house in Wallingford, CT. Danver offers five unique, hand-crafted door styles as well as European-style frameless cabinets for a clean look. View Danver cabinets online.
Challenger Outdoor Cabinets
Challenger Designs offers three distinctive kitchen lines to match your outdoor storage and cooking needs. Choose Canyon cupboard dry-storage inserts to weatherproof your outdoor entertainment area. Select Coastal units to provide a quick and easy complete kitchen unit. Or choose a custom outdoor kitchen cabinet design that complements your specific outdoor space. View options for Challenger Outdoor Cabinets here: https://challengerdesignsllc.com/products/outdoor-kitchens/
Werever Outdoor Cabinets
Werever specializes in custom outdoor cabinets. They build some of the strongest and most precise-fitting outdoor cabinets in the industry. Werever outdoor offer one of the best warranty programs in the industry and are proudly made in the USA. Werever cabinets are built to resist the worst environmental conditions and are available at a variety of price points to fit any budget.
FRAMING
At Bay Breeze Patio, we work with licensed contractors to help you design your space and make it truly unique.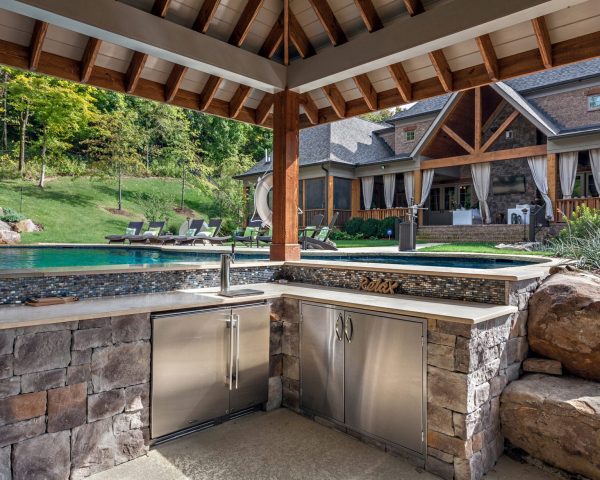 Ready to design your dream outdoor kitchen? 
Call us at 850-269-4666 or stop by our showroom at 32 Forest Shore Drive (one mile west of Silver Sands Premium Outlets). Outdoor living is about to get a whole lot better!
No products were found matching your selection.