We are pleased to add Napoleon Grills to our collection of premium grill brands, and excited to be the local dealer for Napoleon Grills in Destin, Florida. Napoleon Grills produce a diverse
array of grill types with varying price points to accommodate any budget. Napoleon Grills are built to last with premium steel that boasts excellent corrosion resistance, they are well suited for Destin's harsh, coastal climate.
With a wide variety of options to meet the needs of every chef and every budget, Napoleon Grills feature a variety of grills and price points. Napoleon Grills feature gas grills, charcoal grills, built-in gas grills, electric grills, portable grills, outdoor kitchens, outdoor heating and more!
Napoleon has long been one of the top names in grilling, offering a combination of quality and affordability. From its impressive construction and warranty to strong performance and comprehensive features, Napoleon Grills are designed with the chef in mind. To follow are the Napoleon Grill offerings: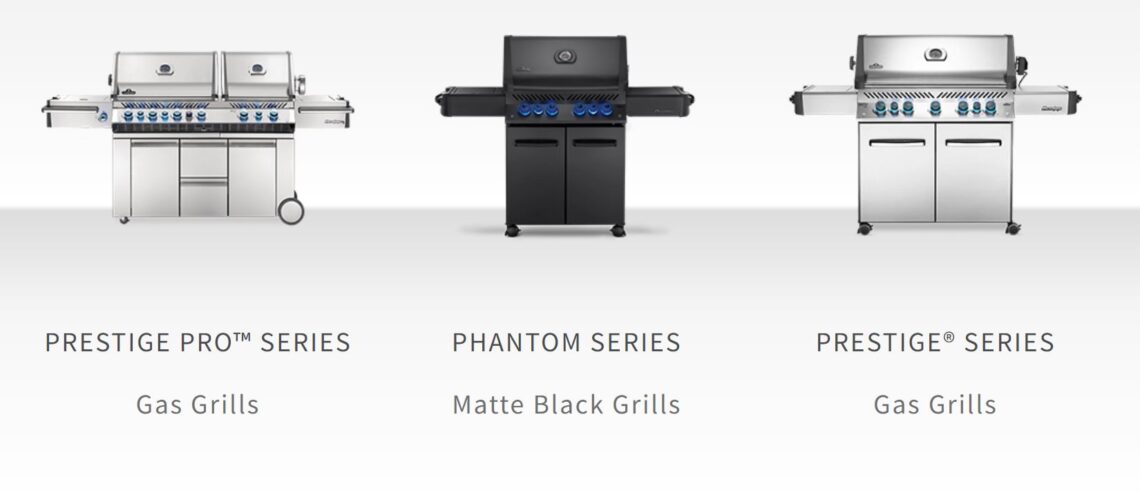 GAS GRILLS
Gas grills are one  of the most popular option for outdoor cooking today. Napoleon Grills offers seven Series of gas grills, including:
–          Prestige PRO Series (16 models)
–          Phantom Series
–          Prestige Series
–          Rogue SE Series
–          Rogue XT Series
–          Rogue Series
–          Freestyle Series
BUILT-IN GAS GRILLS
For those creating or adding to their outdoor kitchen, Napoleon features a plentiful list of built-in grill options. With four separate Series and dozens of models, Napoleon has something for everyone. Made with marine grade stainless steel and featuring seamless installation, Napoleon Grills are as tough as they are beautiful. Napoleon Series built-in grill options include:
-Built-in 700 Series (18 models)
-Built-in 500 Series
-Built-in Prestige PRO Series
-Built-in Prestige Series
CHARCOAL GRILLS
For those who enjoy the flavors created by infrared cooking, Napoleon offers three Series of charcoal grills, including:
Charcoal Professional Series
22" PRO Cart Charcoal
22" PRO Charcoal
Napoleon also offers two Series of portable grills, including TravelQ PRO Series and TravelQ Series. Click here to learn more about Napoleon Grills and find out if may be a great fit for your next outdoor grill or outdoor kitchen project. We also invite you to visit us at our showroom in Miramar Beach (one mile west of Silver Sands Premium Outlets) or call for a personal consultation at 850-269-4666.