To me the ideal way to do ribs is on a smoker.  This is a tradition all across the South and leads to smoky and tender ribs. You can use any type of ribs: baby back, St. Louis or full ribs. Because the wife rules in our house, we only cook baby backs.
The classic way down south for smoking ribs is using a dry rub. We handle many different brands, but our favorite happens to be any of Wayne's Get Grillin' Rubs.
The rest is easy.
In just seven simple steps, you will have smokin' pork ribs that are "fall off the bone" good.
1. After purchasing your ribs, remove the silver skin on the back side of the ribs.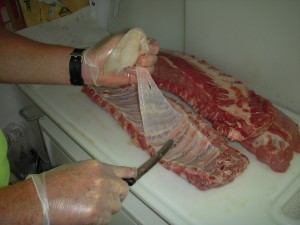 2. Take yellow mustard and spread liberally over the front and back side. Then apply your favorite rub.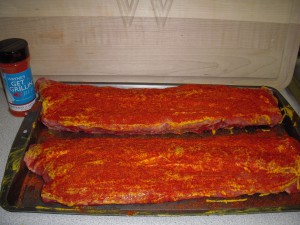 Ideally you do this the day before to let the rub penetrate the meat. This is not absolutley necessary, but helps develop the flavor.
3. Light your smoker and set to 225-250 degrees. Add wood chips if desired for an additional smoky flavor.
4. Place ribs on smoker and smoke for 3 to 4 hours, depending on your temperature.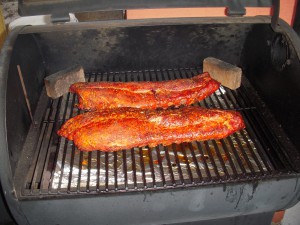 5. For the "fall off the bone" experience, try wrapping your ribs in foil after the 3rd hour and cook for one more hour in a little apple juice. If you like BBQ sauce, start saucing around the four hour mark.  Be careful with sauces that have a lot of sugar, it will burn.
6. The ribs are done when the meat has pulled back from the top of the bone and you can easily pull the remaining meat away from the bone. I like to wrap and put into a cooler for an hour. This seems to redistribute the juices.
7. Get plenty of napkins and dig in!!!!