Thanks to everyone who joined us for the "Grilling the Feast" Cooking Class. As follow up to the class, here are some links to our favorite tips and recipes to help ensure your Thanksgiving Feast will have your family and friends talking about it for years to come.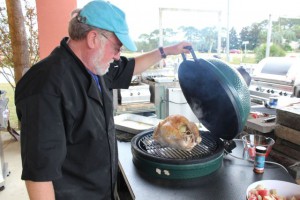 The Turkey
There are many options for cooking the turkey outdoors, including grilled, smoked or fried. Here are some of our go to websites for turkey cooking tips:
TheDomesticMan.com has a great step by step outline for the "Perfect Smoked Turkey."
For those with a Memphis Wood Fire Grill, check out their blog for creating "the perfect turkey."
The website also lists Thanksgiving recipes and instructions for making side dishes and desserts, ranging from baked Autumn Acorn Squash to pumpkin pie.
The Big Green Egg offers simple easy instructions for roasting the "Perfect Roasted Turkey" on the Big Green Egg.
Here's one more: 7 Tips to Cooking Your Turkey Outdoors. Once you get through the initial questions, this blog outlines basic considerations for the variety of ways you can cook your bird outdoors.
We can't help but go overboard with our Thanksgiving feast–smoked turkey, fried turkey, grilled turkey, roasted turkey. As we see it, it's more fun to try them all!
Best of luck with your feast. We hope you achieve the "Perfect Turkey!" Happy Thanksgiving!