We are excited to announce that the 5th Annual Eggs On the Beach Big Green Egg cooking competition raised $36,000 for local non-profit organizations, including our two nonprofit partners—Fisher House of the Emerald Coast and Food for Thought. Held at Seascape Resort, we were excited to welcome more than 750 tasters, honorary judges, nearly 30 cook teams, sponsors, and supporters.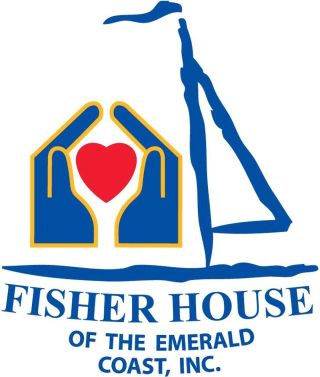 Both Food for Thought and the Fisher House of the Emerald Coast received a $15,000 donation as the result of the 2018 Eggs on the Beach EggFest. Located on Eglin Air Force Base, the Fisher House of the Emerald Coast provides a "home away from home" for military families so they can be together during medical treatment. Food For Thought, which manages food pantries in Santa Rosa Beach and Destin, helps fight food insecurity by providing backpacks filled with healthy, easy to prepare foods for more than 3,000 students each week who are dependent on free or reduced school meals.
We attribute the success to our amazing cook teams and volunteers. We have worked hard to create the best food festival in the area and it is because our cook teams keep raising the bar. We are humbled to see the community come together to support these great causes.
In the non-profit category, the Rotary Club of Destin earned first place and a $3,000 donation for their butterflied pork tenderloin spread with a thin layer of cream cheese and sprinkled with jalapeños and green onions then rolled up and wrapped in bacon. The dish was topped with maple-soaked pecan chips smoked on the Big Green Egg as well as a Granny Smith apple, dried cranberry, pecan, sun-dried tomatoes and Knob Creek maple bourbon chutney sauce. In second place, the Air Commando Association received a $2,000 donation toward their cause. Returning from New Orleans, Son of a Saint earned third place and a $1000 donation for their cause, which provides mentorship, education, cultural enrichment, and emotional support to fill the void for dozens of fatherless young men in New Orleans.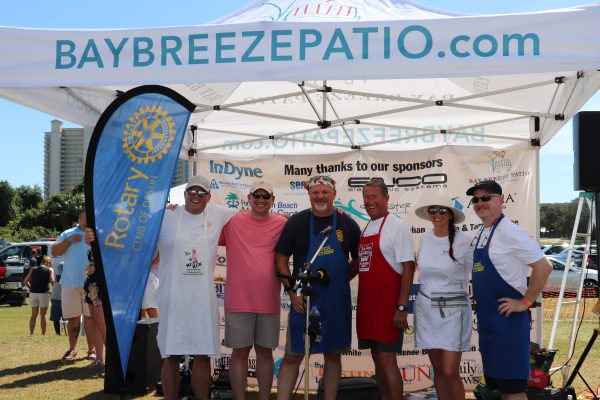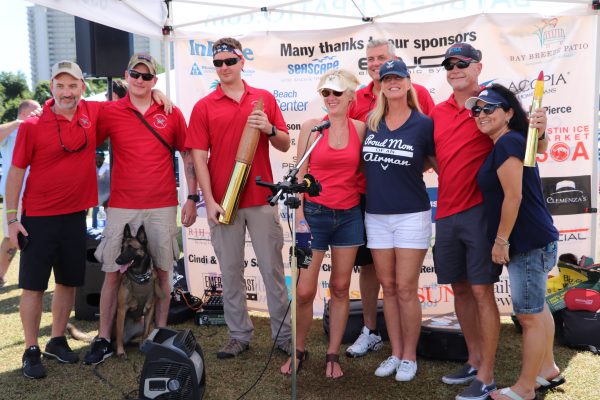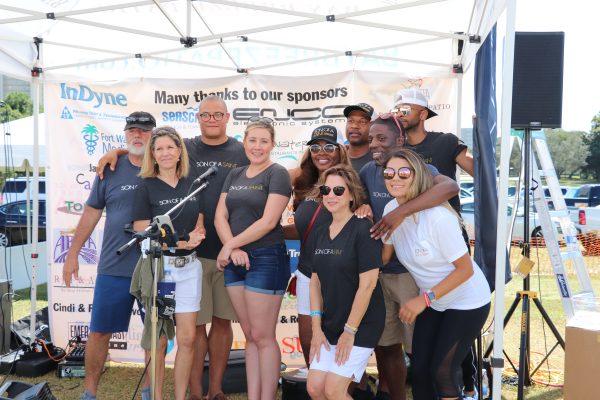 *Pictured: Non-profit cook teams–Rotary Club of Destin, Air Commando Association, Son of a Saint
The People's Choice Awards were presented to Sacred Que, Saltwater Restaurants, Inc. and Rotary Club of Destin. Sacred Que won with their bite, which was a sweet tea and bourbon brined beef tenderloin served on a toast point with a caramelized onion/shiitake mushroom/blue cheese spread, horseradish cream sauce, jalapeño pesto and harissa sauce. Their bite was also accompanied by Knob Creek infused raisin bread pudding with a bourbon icing sauce as well as Knob Creek smoked Old Fashion.
In addition, five honorary judges awarded trophies based on flavor, presentation and creativity. Judge's Choice winners for 2018, include The Gulf Restaurant on Okaloosa Island , Saltwater Restaurants, Inc., and Sacred Que. The winning bite presented by The Gulf and featuring Knob Creek Bourbon was a glazed crispy pork belly with a pineapple and sweet pepper relish and sweet and hot roasted peanuts. The Gulf, along with the Rotary Club of Destin, will compete this week in the World Food Championship in Orange Beach.
For the best bite using Knob Creek Bourbon, United Firefighters Foundation from New Orleans earned first place. In second was the InDyne/RT&T team followed by the Rotary Club of Destin in third.
Last but certainly not least, the best booth display was presented to Saltwater Restaurants, Inc. The creative booth design and delicious bite was a big hit among tasters and judges. Their bite—a buffalo sirloin with a side shrimp served with a glass of Knob Creek Bourbon Smash—also earned them the second place People's Choice Award and second place Judge's Choice Award.
Eggs on the Beach event has been steadily growing over the last five years and the event has raised more than $125,000 to local non-profits since its inception in 2013. For those grillers who have dreamed of owning a Big Green Egg, a couple of gently used Demo Eggs are still on sale at Bay Breeze Patio. Click here to learn more about the Big Green Egg. For more info on the event, visit EggsontheBeach.com. Mark your calendar to join us on Sept. 28, 2019 for 6th Annual Eggs on the Beach!