One of the joys of having your own
personal backyard pizza oven is the ease of making meals authentic and fast. At
Bay Breeze Patio, we carry HPC Fire Inspired as well as Alpha Ovens. These
ovens cook fast at high temperatures, and produce one-of-kind results.  
Here's a look at the benefits and offerings of HPC Fire Inspired pizza ovens and Alfa Pizza Ovens.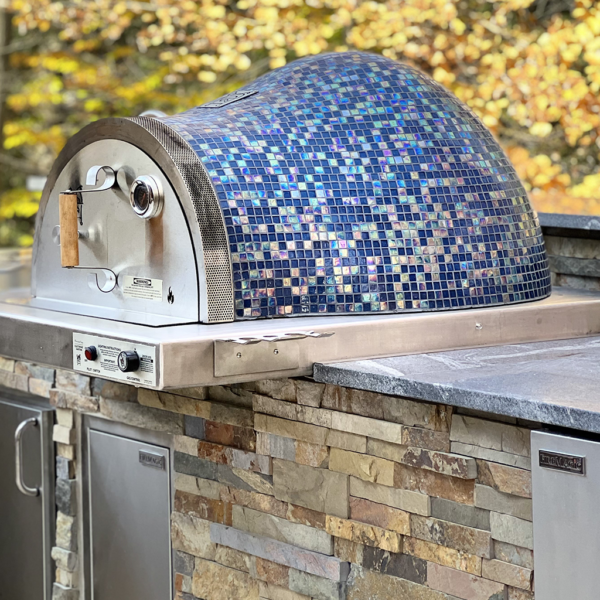 HPC Fire Inspired
One of the joys of HPC Fire Inspired pizza oven is that it reaches 950˚F in just 15 minutes for genuine Neapolitan style pizza cooked in 90 seconds. A trusted fire provider since 1975, HPC Fire Inspired has been at the forefront of fire feature products for decades and features several different series. The Forno Series Pizza Oven is a dual fuel oven that can be wheeled around easily. Forno de Pizza's classic design complements its black cart and intricate handcrafted glass mosaic oven. Every oven is uniquely handcrafted and is powered by HPC's electronic ignition system. The gas valve system is the safest and most reliable on the market. With a choice of six glass mosaic colors, its elegant finish is as personal as your backyard. The Villa Series is the hearth and oven built-in. Available in LP as well as natural gas, The Villa oven is the lightest authentic brick-dual-fuel oven on the market. Created to be built-in to a 35" deep counter or more, The Villa is coined the safest operable wood and gas fueled oven and is ideal for outdoor kitchens.
We teamed with John at Dude. Food. Fire. and put the HPC Fire Inspired Oven to the test at a charity wine festival. See the delicious results here. Stop by our showroom to test HPC Fire, a trusted brand that lights every time.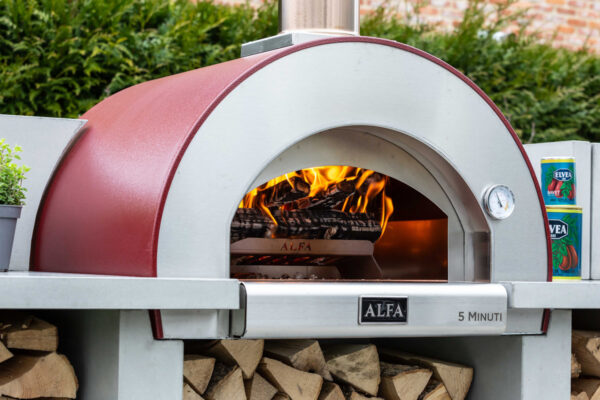 ALFA Wood Fire Grills
One of the most popular backyard pizza ovens on the market today is Alfa Ovens due to their heat genius innovative technology that allows you to cook the pizza base and condiments at different temperatures. Three technologies make this possible:
HeatKeeper™ Refractory Brick

–

The Heat Keeper™ brick, produced at the Alfa plant in Italy,

absorbs and stores heat

. The Heat Keeper™ refractory brick is crucial for quickly cooking a pizza, making it soft and crispy at the right point without burning it.
DoubleDown Ceramic Superwool

®

Insulation – The space between the stainless steel walls of an Alfa home oven is filled with DoubleDown Ceramic Superwool® insulation. This European ceramic fibre

offers twice the heat resistance

of rock wool used by other pizza oven manufacturers. It also retains heat better and allows pizzas to cook to perfection.
Patented Full Effect Full Circulation Flue System

®

–

This particular system

optimizes the circulation of hot air inside Alfa ovens

. Rather than being evacuated quickly through the flue, as takes place in other pizza ovens, the hot air circulates in the cooking chamber and is

pushed down

to further heat the refractory brick

and pizza.
In Alfa ovens,

the heat is pushed in an "around and down" and then conveyed by a special deflector to the flue to be expelled. In doing so, the oven always maintains the right temperature so as to optimally cook both the base and the condiments of your pizza.
Alfa has introduced its most portable and most affordable oven yet—the new gas-fired Moderno Portable. With its Italian design and innovative temperature technology, Portable is Alfa's most compact pizza oven and is perfect for cooking one pizza at a time. Available in portable, compact, medium or large, Alfa Pizza Ovens can cook up to 5 pizzas at one time.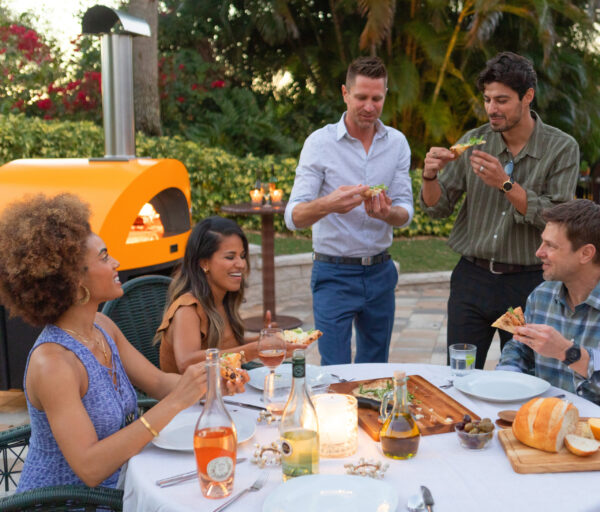 We are the official local retailer for HPC Fire Inspired and Alfa Ovens, and we invite you stop by our showroom at 32 Forest Shore Drive (one mile west of Silver Sands) and test for yourself the joys of a backyard, personal pizza oven. Online purchases coming soon. For more information or discuss the joys grilling, call Wayne Paul at 850-269-4666.