Considering refreshing your backyard? If you answered "yes", consider infusing the 2022 Color of the Year, Very Peri. The new blue/purple shade (PANTONE® 17-3938 Very Peri) is a dynamic periwinkle blue hue with rich violet-red undertones. According to Pantone, blending the faithfulness and constancy of blue with the energy and excitement of red, Very Peri is happiest and warmest of all the blue hues.
For outdoor living, Very Peri can provide a beautifully rich accent color to complement the natural earth tones commonly used by many of the outdoor furniture brands, including Brown Jordan, Lloyd Flanders, Lane Venture and Summer Classics.
Very Peri can be used for outdoor pillows to provide a pop of color as seen with this Ratana collection.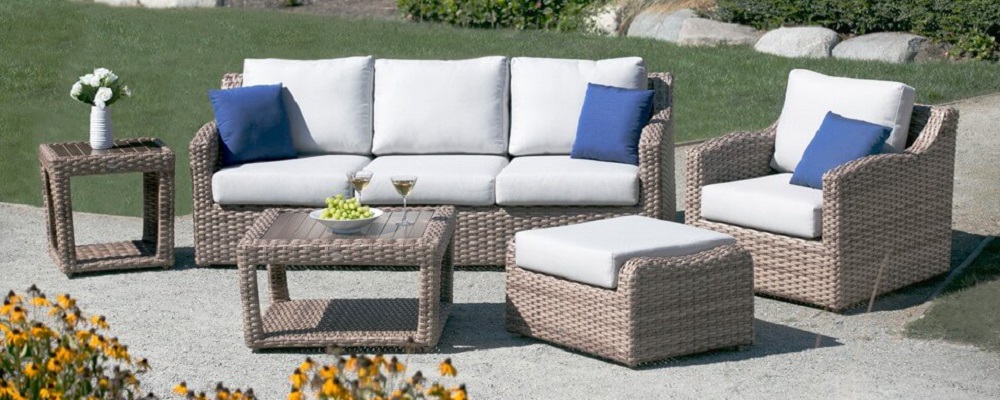 Sunbrella outdoor fabrics offer a variety of fabrics that infuse tones from the Very Peri color palette. Created to withstand fading, Sunbrella fabrics are ideal for accent pillows, outdoor cushions, outdoor drapes and umbrellas and can be used to create a luxurious feel within any outdoor living room.
Another option for infusing Very Peri's rich violet hues through accessories such outdoor art, pottery or umbrellas. Treasure Garden outdoor umbrellas featured here provide shade and beauty.
Our design experts are ready to help you create your outdoor dreams. Stop by our showroom at 32 Forest Shore Drive to use our Sunbrella Kiosk and view and feel the wide range of outdoor fabric options as well as outdoor furniture and accessories. Need help fast? Call us at 850-269-4666.